What exactly is the Cédula de Habitabilidad?
The habitability certificate, also known as the "cédula de habitabilidad", is an official document issued by the Consell de Mallorca. It has a duration of 10 years and serves as confirmation that a property meets the minimum requirements for a habitable living environment. These requirements concern aspects such as size, technical equipment and sanitary facilities, which must meet certain specifications.
The habitability certificate is nowadays a mandatory document when buying real estate and, as a rule, a purchase cannot be concluded without this certificate. Of course, there are exceptions to this rule. An example of this is when the buyer intends to demolish the purchased property and build something new or carry out extensive core renovation. In such cases, the requirement to submit the certificate of habitability may be waived.
It is important to be aware of the legal requirements and exemptions related to the Certificate of Habitability to ensure that all the necessary steps and regulations are followed when purchasing a property.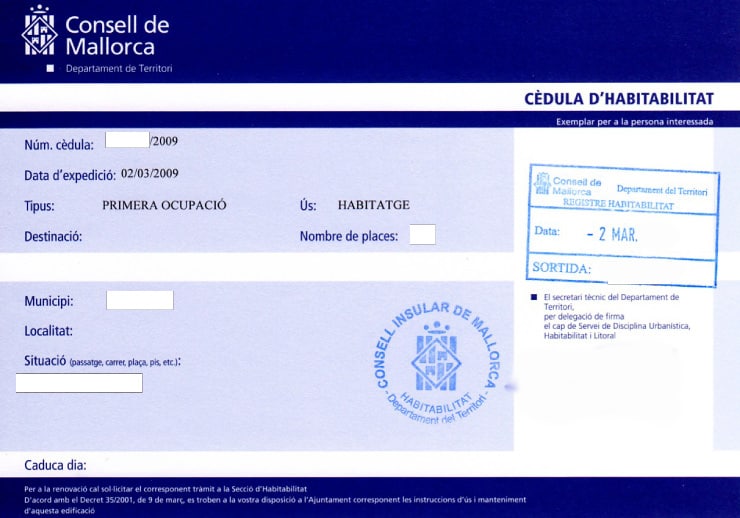 What types of Cédula de Habitabilidad are there?
There are three different types of cédula, which can be broken down as follows:
1. "Cédula de primera ocupación" – first occupancy certificate: This certificate is issued when a property has been completed for the first time or when extensive renovations, extensions or changes of use have been made. To obtain this certificate, plans and photographs of the property (signed by the architect), a cadastral extract and other documents must be submitted.
2. cédula de renovación – renewal certificate: This certificate must be applied for every ten years. The application would have to be accompanied by proof of ownership, a recent photograph of the property (dated and signed by the architect), a site plan with the cadastral data and confirmation of habitability. In addition, proof should be provided that the structural condition of the property has not changed since the last Cédula application. In practice, the extension is simply requested without any major formal conditions.
3. "Cédula por carencia": This certificate can be applied for if the property was built before 1 March 1987 and no cédula has been issued so far. A simplified procedure applies to this certificate in the Balearic Islands: A document must be presented confirming that the building was completed before 1 March 1987, that there are no ongoing breaches of building regulations in the municipality and that no structural alterations have been made since 1 March 1987.
It is important to note that the Cédula has different requirements and procedures depending on the type and condition of the property. If there are any questions or uncertainties, it is advisable to consult a professional or lawyer to ensure that all the required steps are carried out correctly.
What disadvantages arise from the lack of a Cédula de Habitabilidad?
Not having a cédula can lead to some disadvantages. For example, you cannot sign contracts for utilities with basic suppliers such as electricity, water, telephone and internet providers. However, in practice this is not always checked by the utilities, and if you buy a property without a cédula, it usually already has all the necessary utilities that can be taken over without any problems.
Another disadvantage of not having a cédula is that a possible mortgage for the purchase of the property can be denied. There are banks that may only provide a smaller loan in the absence of a cédula. It is therefore advisable to find out in advance about the specific requirements of the banks in order to avoid possible restrictions.
And anyone thinking of applying for a holiday rental licence for their finca (perhaps possible again with the current government) will not succeed without a cédula.