Free of commission for the buyer!
living space: 100 m2
plot:
bedrooms: 3
bathrooms: 2
Number of rooms: 4
Description of the property
Welcome to your private paradise in the middle of Palma de Mallorca. Here you will find peace and space to enjoy the Mediterranean lifestyle. Every detail of the design has been created with love and elegance to appeal to special people. The different equipment options reflect your personality. The sustainable building was built with high quality materials to guarantee comfort and well-being.
The penthouses offer elegance and exclusivity. A privilege to live under the sky of Palma. Light, space and comfort on two levels. A living room with integrated kitchen, which extends far over the large window front to the comfortable terrace. Upstairs is your sunny private roof terrace. Enjoy the happiness and the view of Palma. Choose either between our three interior design options Light, Shine or Glam, or opt for a completely personalized design – customized to your taste and adapted to your needs. An exclusive, unique and incomparable living experience.
Palma is a city of innovation and avant-garde architecture. Here you will find lively streets full of boutiques and restaurants, as well as innovative studios, showrooms and pop-up stores. The city is surrounded by luxury and sophistication and offers medical facilities, fitness clubs and educational institutions to create the best living environment.
Tradition and design meet a privileged environment overlooking the harbor. Here you will find charm and a high standard of living, as well as a peaceful corner to enjoy a glass of cava in the fresh sea breeze. The renowned gastronomy offers Mediterranean scents, tapas, cocktails, sunny terraces, fish and other gourmet delicacies. Countless flavors for your senses. Where hedonism means more than a way of life, you will find the perfect place to live.
Experience privacy in the heart of the residential complex. Two zones, two atmospheres. Swimming pool, solarium and garden: pleasure and relaxation. Energy and vitality in the light-filled gym. Common spaces that promote health and serenity.
Luxurious and comfortable living: From the imposing entrance area, you can take two elevators up to your apartment or down to the double-level parking garage. There you will also find bike racks and storage rooms. A design that combines luxury and convenience in a unique way.
The spacious apartments offer a comfortable living experience. Choose from one, two or three bedrooms, two bathrooms, open kitchens and living spaces, and expansive terraces. Choose from three individual interior design lines to add your own personal touch. Be inspired and creative with the materials and shapes. The privilege of light and lightness reflect your identity.
The district Santa Catalina is a district of the island capital Palma. Located to the west of the old town, the district benefits from its proximity to the port promenade and the city beach. Once, Santa Catalina was simply the typical port area, where sailors, fishermen and shipbuilders lived, hence the name Santa Catalina which comes from the patron saint of sailors. Especially in recent years, the quarter enjoys growing popularity. A variety of restaurants and bars, of different styles and orientations, attract many people into the streets of the harbour town every evening. The offer is international and exquisite. During the day, residents and tourists enjoy the colourful hustle and bustle in the market hall of Santa Catalina, which is known all over the island.
– air conditioned w/c
– SAT TV
– Highspeed Internet
– communal pool
– gym
– barrier-free
– sunny
– bright
– illuminated infinity pool incl. waterfall
– Kitchen appliances from Bosch, Miele or Gaggenau
– Highly efficient hot water generation system with an inverter aerothermal heat pump
– Remote control system and remote maintenance of the air conditioners by means of a web application
Modern new construction penthouse with many extras, pool and sea view in Santa Catalina quarter of Palma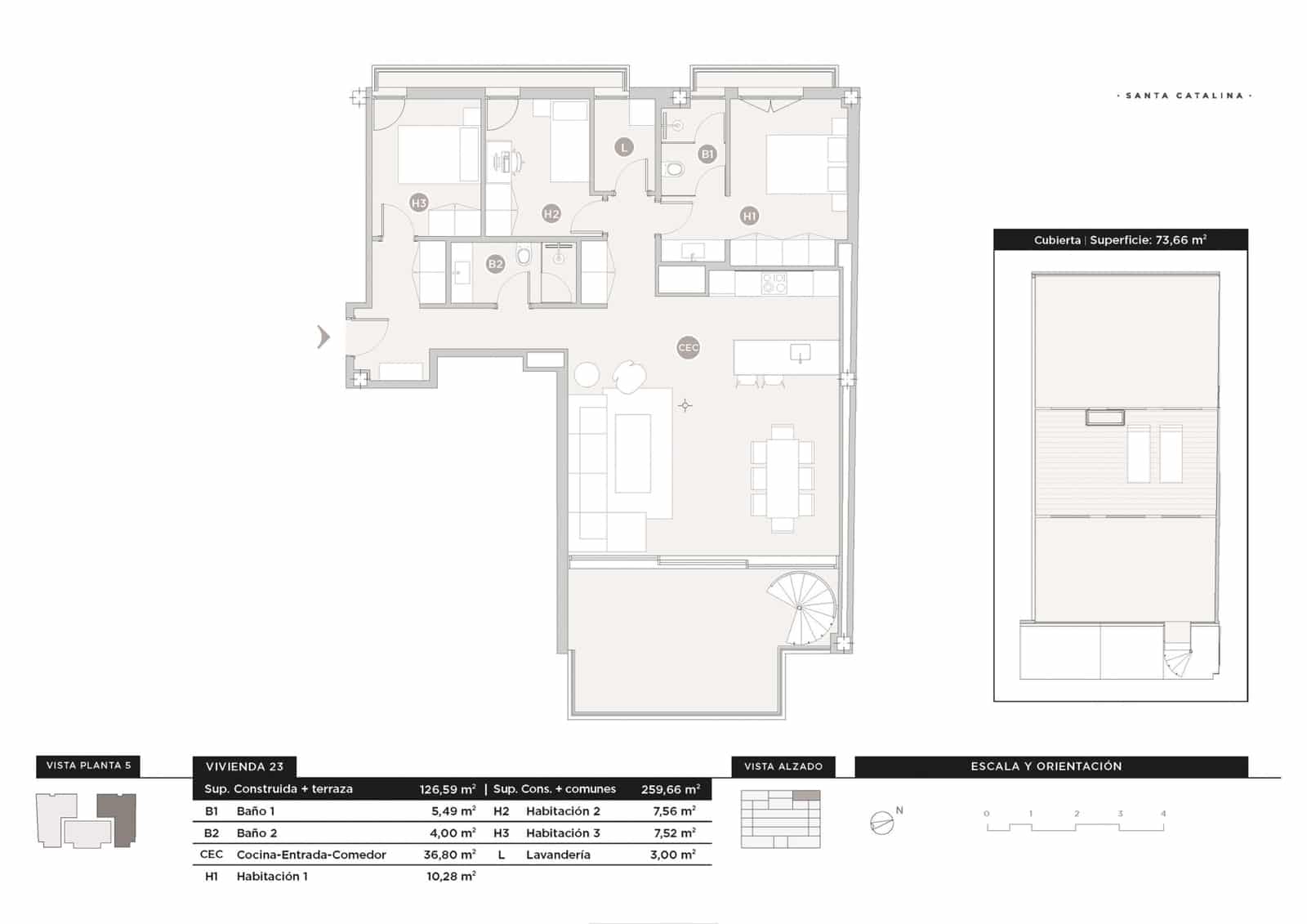 Modern new construction penthouse with many extras, pool and sea view in Santa Catalina quarter of Palma
Rough indication of the location of the property
The location is shown only as a rough position indication. So you know where the property is in which region in Mallorca. For details, please contact us.